We Serve Families of Neurodiverse Kids
Designed for kids with ADHD, Autism, and SPD
Perfect for developmental ages 4-12
Resource Guide for Special Needs Kids. Please enter your information to receive our free technology guide.
Goally helps bridge the gap between behavioral science techniques and the parents who are tasked with implementing them.

Goally is the only standalone device designed by leading behavioral therapists, child psychologists and learning experts.
30-day money-back guarantee.
Less stress and conflict, more quality family time


Your child learns to stay on task, on their own, with a distraction-free device with built-in graphics and engaging sounds.

Structured routines and tasks step-by-step


Access an icon library of built-in routines and tasks or customize your own with pictures you can take and upload.

Set Goally points and rewards


Keep your child motivated to complete tasks, while building confidence and independence.

Block the distractions


Improve your child's focus and help them make progress while achieving desired behavior with rewards, not yelling.
She is always proud of herself for completing a routine....it's really helpful to keeping a happy household.

Michelle, La Selva Beach, CA
Proven to reduce stress and meltdowns
42%
Less stress for kids & parents

*We're grateful to our research partner.
Give your child a head start
in 3 easy steps:
STEP 1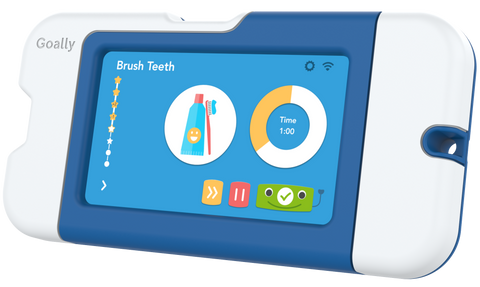 Get your Goally
When it arrives, setup is simple.
STEP 2
Connect your parent app
Get insights into your child's activities.

STEP 3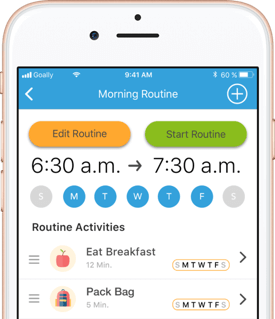 Make routines easier at home.
Set tasks and routines. Adjust points and behaviors. Help your child feel in charge, independent, and rewarded.
I love Goally, and have several clients who use it and have found it super helpful in organizing their child's home schedule. I recommend it.
Danni Verona is a licensed Occupational Therapist
with 23 years of experience.
Join thousands of families who have helped their children.
Try Goally with a 30-day money-back guarantee.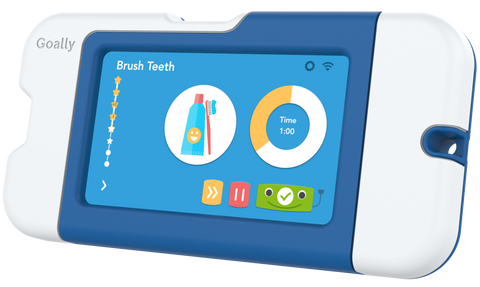 Goally
$189

($299)

+ $9.99/mo.

Save $110!
$189

($299)

+ $9.99/mo.

Save $110!
Join the Goally family to participate in our member to member mentorship program.
Watching Aiden develop independence is the biggest reward for me - seeing things become less of a struggle for him.

Lilly, Queensbury, NY
Our Story
It started with an engineer who wanted to help his son become more independent. He was frustrated with everything he tried so he built Goally.

Our mission at Goally is to empower kids and help families become happier and more connected. We use technology, child-behavioral science, and the shared knowledge in the Goally parent community to help every parent give their children the best possible start in life.
Recent blog posts
Learn more with our free parent resources.